The Horner XL4 OCS is an All-in-one controller. This means that this modern unit combines a logic controller, operator interface, I/O and networking all into one package. This OCS (Operator Control Station) family was first released in 1998. New features to the line-up have been added over the years. Today the OCS family has a very competitive advantage as you will soon see.
Programming is done with a single programming software package. Cscape (Control Station Central Application Programming Environment) is designed to be easy to use and maintain.
This series on the Horner XL4 all-in-one controller (PLC) will go step by step through learning how to use this innovative unit.
Horner XL4 – Unboxing the Hardware
There are several reasons why we are using the Horner XL4 Controller. Here are just a few.
– Investment is low for the hardware and the software is free
– Standalone PLC with built-in I/O and HMI
– Communication ability – Ethernet Port, RS232, RS485 – support for protocols such as Modbus RTU, Modbus TCP, etc.
– Built-in data logging functions
– Ability to expand the system with a variety of modules
Watch on YouTube: Horner XL4 Unboxing Hardware

You have probably seen these controllers in use but never paid much attention to them. With the following environmental ratings, this controller is ideal for small to medium size projects. It will handle temperature ratings from 0 to 60 degrees Celsius with a non-condensing humidity from 5 to 95 percent.
UL Class 1, Div 2 – A place in which an explosive atmosphere is not likely to occur in normal operation, but may occur for short periods.
UL Type 4X – Either indoor or outdoor use to provide a degree of protection against falling rain, splashing water, and hose-directed water; undamaged by the formation of ice on the enclosure; resists corrosion.
ATEX – Please refer to the chart in the link for the ATEX coding on your controller.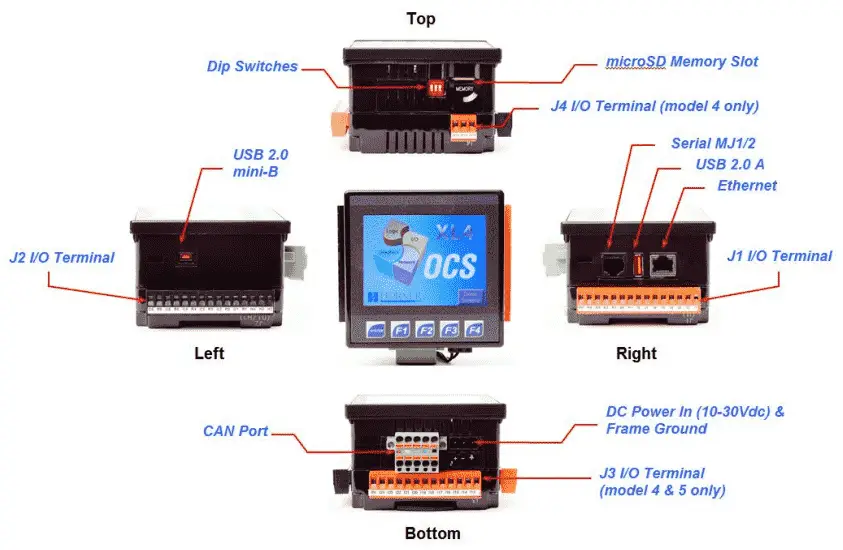 Here are the following hardware features of this controller:

MicroSD (32GB) – Horner XL4 Hardware Features
Used for data logging, field application updates, recipes, etc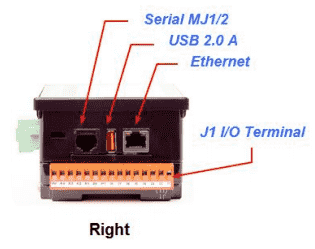 Ethernet 10/100
Ethernet – Horner XL4 Hardware Features
Modbus TCP Client/Server, HTTP Web Serving, FTP, Email, Programming (Cscape)
USB 2.0 – Horner XL4 Hardware Features
FLASH Drive Support (<2TB), Firmware Updates
Digital and Analog Inputs – Horner XL4 Hardware Features
DC Inputs, High-Speed Counters (500Khz), 12 or 14 bit Analog in. Maximum 2048 digital inputs and 512 analog inputs.
RS232 and RS485 Serial Ports – Horner XL4 Hardware Features
Modbus RTU Master and Slave, PLC Drive protocols, ASCII In/Out and programming (Cscape)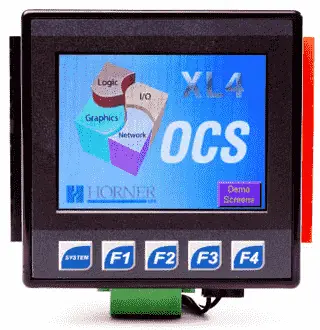 Logic Controller – Horner XL4 Hardware Features
IEC 1131 Logic Programming or Advanced Ladder Logic with online programming (Cscape) 1MB Logic program, 0.013mSec/K Logic Scan Rate

CAN Port – Horner XL4 Hardware Features
Local and remote I/O, Peer to Peer Communications and Programming (Cscape with via USB interface to CAN port)
Digital Outputs – Horner XL4 Hardware Features
DC or Relay, 2 PWM or PTO (200KHz w/opt. drivers) Maximum 2048 digital outputs and 512 Analog outputs.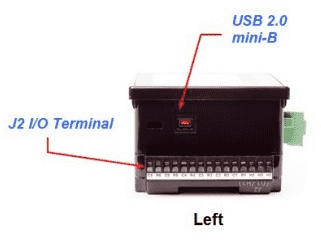 USB 2.0 On-the-Go
Dedicated USB Programming Port
High-speed data and online programming (Cscape)
3.5" Colour Touchscreen – Horner XL4 Hardware Features
QVGA resolution, 16-bit color, quick screen updates, system key, and 4 function keys
This all-in-one controller comes in six different models.
HE-XC1E0 – No Built-in I/O
HE-XC1E2 – 12 DC In, 6 Relay Out, 4 12-bit Analog In
HE-XC1E3 – 12 DC In, 12 DC Out, 2 12-bit Analog In
HE-XC1E4 – 24 DC In, 16 DC Out, 2 12-bit Analog In
HE-XC1E5 – 12 DC In, 12 DC Out, 2 14/16-bit Analog In (mA/V/Tc/mV/RTD), 2 12-bit Analog Out
HE-XC1E6 – 12 DC In, 12 DC Out, 6 — 14/17-bit Analog In (mA/V/Tc/mV/RTD), 4 — 12-bit Analog Out
Special Models Available
Extended Temperature Model (3Q12)
The XL4 has been designed to support an optional heater with an integral thermostat. This will extend normal operation down to -40 degree C/F. Contact manufacturer.
Next time we will look at installing the free Cscape software.
Watch on YouTube: Horner XL4 Powering Up Unit

If you have any questions or need further information please contact me.
Thank you,
Garry


If you're like most of my readers, you're committed to learning about technology. Numbering systems used in PLCs are not difficult to learn and understand. We will walk through the numbering systems used in PLCs. This includes Bits, Decimal, Hexadecimal, ASCII, and Floating Point.
To get this free article, subscribe to my free email newsletter.

Use the information to inform other people how numbering systems work. Sign up now.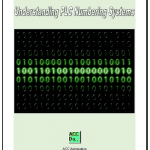 The 'Robust Data Logging for Free' eBook is also available as a free download. The link is included when you subscribe to ACC Automation.