Productivity Suite PLC Simulator Software Free Download – Video
Productivity 1000 Series PLC – Automation Direct
System Hardware – Video
Installing the Software – Video
Establishing Communication – Video
First Program – Video
Documenting the Program – Video
Monitoring and Testing the Program – Video
Online Editing and Debug Mode – Video
Numbering Systems and Tag Database – Video
Contact and Coil Instructions – Video
Timer Instructions – Video
Counter Instructions – Video
Math Instructions – Video
Data Handling Instructions Part 1 – Video
Data Handling Instructions Part 2 – Video
Array Functions Part 1 – Video
Array Functions Part 2 – Video
Array Functions Part 3 – Video
Program Control – Video
Drum Sequencer Instructions – Video
Data Logger – Video
Web Server – Video
Modbus RTU Serial Communication – Video
Modbus TCP Ethernet Communication – Video
Firmware Update – Video
AdvancedHMI Modbus TCP Ethernet Communication – Video
Email and Text Communication – Video
Google is removing "Less Secured Apps" in the mail app. (Gmail) If you are using this to send email from your controller, you must enable 2-step verification. This will then give you the option to generate an "App Password" for your controller or program.
Gmail Less Secure App Access – App Passwords
PID Instruction (Auto Tuning) – Video
PID Ramp Soak Instruction – Video
Productivity 1000 Series PLC Modbus ASCII Protocol – Video
Stride Field Remote IO Modules Modbus TCP Ethernet
– Unboxing SIO MB12CDR and SIO MB04ADS Video
– Powering and Configuring Video
Productivity 1000 PLC to Stride Field IO Modbus TCP – Video
Modbus RTU TCP Remote IO Controller BX-MBIO
– BX-MBIO Hardware Video
– BX-MBIO Powering and Configuring Video
Productivity 1000 PLC to Modbus TCP RTU Remote IO Controller BX-MBIO – Video
Productivity 1000 Series PLC Click EtherNet/IP Remote I/O – Video
Productivity BRX Do-More EtherNet/IP Remote IO – Video
Node-RED MQTT Broker with Productivity P1000 P2000 PLCs
Productivity PLC Node-RED MQTT – Video
Automation Direct Productivity1000 Analog, Digital and Ethernet PLC Trainer
Includes: 1 PLC , 1 Training Module with 4 discrete inputs and 4 discrete outputs, two analog input, two analog output, power switch, USB programming cable, power supply …. so you supply the computer and we will supply everything else. Investment $699.99 USD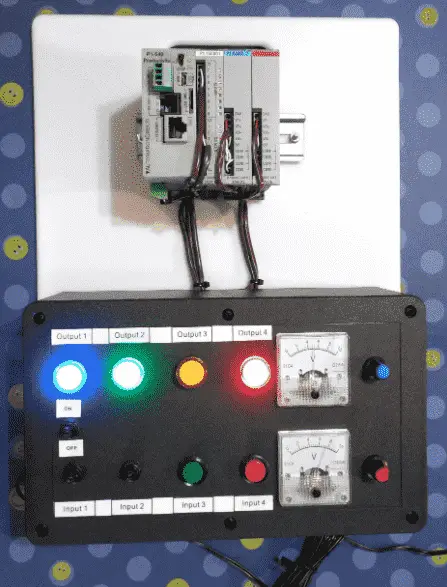 Note: 5% Discount on orders over $250.00. Use coupon code 'accautomation.ca' at checkout.
YouTube Video Playlists 
Productivity 1000 Series PLC
Productivity PID Instruction
Productivity 2000
Productivity 3000
Learning PLC Programming
PLC Basic Tutorials
How to wire a PLC
PLC Program Development
PLC Programming Techniques
PLC Programming Examples
Advanced Programming Techniques
PLC Troubleshooting
Youtube Productivity Shorts Playlist
Featured Short:
Analog 4-20 ma Current Input to PLC

Productivity 1000 Series Controller
The Productivity 1000 series of programmable logic controllers currently has all of these features built into the P1-540 CPU.
This CPU (Central Processing Unit) are also known as MPU (Multi Processing Units) because of the communication capabilities.

– 50MB user memory – Can handle very complex applications easily.
– 4 built-in communication ports – Easy connectivity to your network.
– Data logging up to 32 GB on a microSD card
– Add up to 8 IP modules to communicate to your field sensors. This will give you a total of 128 discrete IO points or 32 analog IO channels.
– Free Software and 30 days of free training with every CPU from Automation Direct.
– Interactive PLC Configuration Tool
– Tag Names
– Auto discovery IO – Physical I/O tags will be generated based on each module's position in the base.
– I/O Modules have QR codes under the wiring cover. This can be scanned so you can have the latest specifications / wiring diagrams for the module.
– Limitless PID – Auto tuning – Individual or Cascade Mode – etc
– Web Server and Mobile Access
– Advanced Software instruction set