Productivity Open Arduino Compatible Industrial Controller
Congratulations! Productivity Open named Product of the Year – Grand Award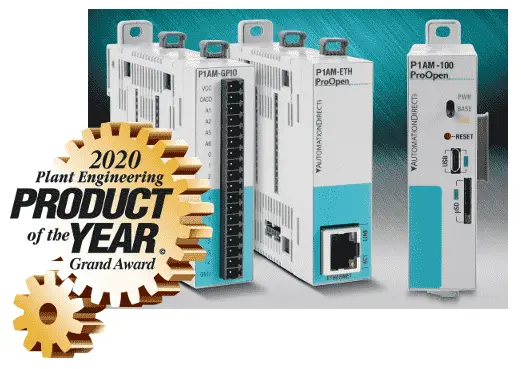 Plant Engineering has named the Productivity Open as the Grand Winner of the Product of the Year award.
P1AM-100 Hardware
– Starter Kit Unboxing Video
– Powering Up Video
Installing the Software – Video
First Program – Video
Program Structure – Video
Variables Data Type – Video
Serial Monitor COM – Video
Program Control – Video
Operators – Video
GPIO Inputs and Output – Video
Math Instructions – Video
Time Instructions – Video
P1000 Expansion Analog Combination Module – Video
P1000 Expansion Digital Inputs and Outputs Part 1 – Video
P1000 Expansion Digital Inputs and Outputs Part 2 – Video
WatchDog – Video
P1000 Expansion Thermocouple Module – Video
PID Control – Video
Arduino Modbus TCP to C-More Micro EA3 – Video
Arduino Modbus TCP to C-More EA9 – Video
Arduino Web Server – Video
Arduino Modbus TCP Client to Click PLC – Video
Productivity Open Arduino Compatible Links:
Product Hardware
– Productivity Open (Automation Direct)
– Configure a Productivity Open Arduino-based Controller
– Open Source Controllers (Arduino-Compatible)
– Productivity Open Documentation (Facts Engineering)
– P1AM Design Files
Software
– Arduino IDE (Integrated Development Environment)
– P1AM-100 library (Easy Interface for controlling P1000 Modules)
– Productivity Blocks (Development Timesaver)
– Productivity Blocks Documentation (Wiki)
Community
– Automation Direct Forum – Open Source Devices
Productivity Open is an industrial rated Arduino compatible platform controller. This rugged open-sourced CPU mimics the MKRZero Arduino. You can add standard MKRZero shields (Add-on Boards), along with the Productivity 1000 PLC I/O.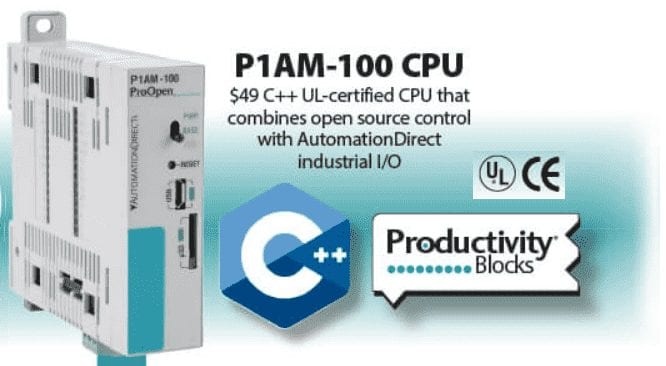 The Productivity Open Arduino Compatible Industrial Controller is CE and UL certified. Approved industrial standards ensure that your panels operate equipment and systems in a wide range of industrial environments and enable the safe functioning of equipment.
Industrial electrical noise isolation has been incorporated in the design of the Productivity Open. Voltages up to 240VAC can now be used with up to 3A output ratings on your maker project.