Do-more plc modbus ascii protocol will be used to communicate to a  Solo process temperature controller. A sample program will explain in detail how this is accomplished through a serial port.
Modbus is a communication method used for transmitting information over serial lines between electronic devices. The device requesting the information is called the Modbus Master (Client) and the devices supplying information are Modbus Slaves (Servers). This protocol was originally developed by Modicon systems.
Modbus protocol comes in basically three different types. Ethernet (Modbus TCP) or Serial (Modbus RTU or Modbus ASCII). Modbus TCP and Modbus RTU come as standard protocols in the BRX Do-More series of PLCs.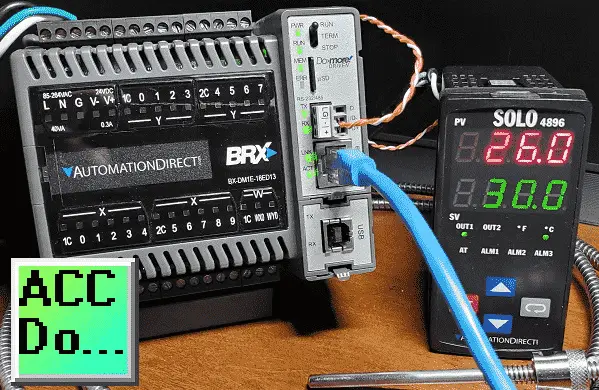 We will connect the BRX Do-More PLC to a Solo process temperature controller. This will be done using the Modbus ASCII protocol over serial RS485 communication wire. (Media) The present and set values (PV / SV) will be read from the Solo controller and the set value will be written when required. Let's get started.