The C-more touch panels include a series of built-in System Setup Screens that allow you to view detailed information about the panel; adjust certain features; configure communications; test various functions of the touch panel; backup & restore firmware, a recipe, log, and project memory; clear memory and reset all values and conditions back to the original factory defaults.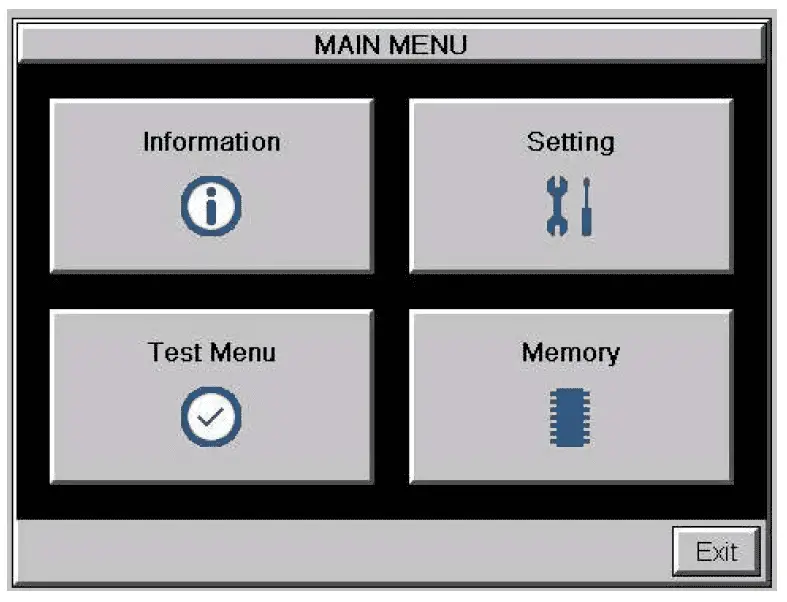 Information, Setting, Test Menu and Memory make up the four Main Menu setup screens.
Information – The information tabs display details about the touch panel model; the panel's name; version information for the hardware, boot loader, and firmware; clock source, and beeper status. Other tabs display details on the panel's internal memory and the status of any external memory devices. Communication port details are available in this area, as well as an error log to help in troubleshooting the system.
Setting – This is the area for making adjustments to the internal clock, adjusting the brightness of the display, setting the IP address adjusting (calibrating) the touch panel, enabling or disabling the internal beep, and enabling or disabling a mouse pointer.
Test Menu – This menu will allow you to test the touch panel, test the display, test the user LED, test the communication ports, and test both the internal beeper or the audio line output. If a speaker with an amplifier is connected, a WAV sound file is a system provided for the audio line output test.
Memory – The Memory menu allows you to either backup or restores your project, log data, recipe data and/or system memory. Selections can be made to backup to optional SD card memory or USB pen drive memory. The menu selections also give you the ability to clear the memory, and there is also a selection to reset all of the touch panel settings back to the original factory defaults.
We will be reviewing these system screens of the C-More HMI Panel. Let's get started.