The C-More EA9 Series of human-machine interfaces (HMI) provides a way for the operator to control and will perform a lot of additional items. The free programming software is very user friendly and fully featured. Here are some of the additional items that this robust and powerful HMI can do besides communicating to programmable logic controllers (PLCs).
Send Email – This includes authentication for the email client protocol
Log Data – This can log data files to the internal memory or an external thumb drive (32G)
FTP Server – Use file transfer protocol to retrieve information from the HMI to a network. This can be done automatically with a batch file.
Web Server – This HMI can be a web server on your network
Remote Internet Access – Windows, Android, and IOS operating systems have the ability to take advantage of this remote access to the HMI. The programs are free and fully functional.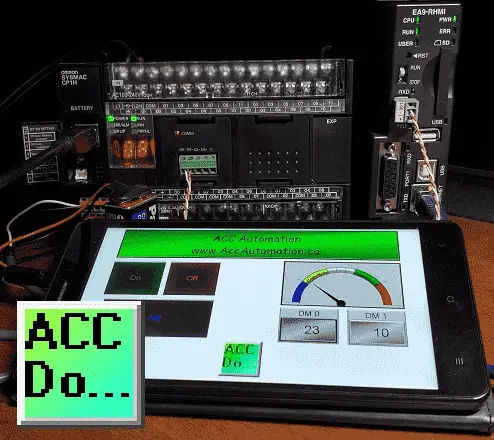 Our sample CP1H PLC program will use buttons and indicators to control a start/stop jog circuit. An analog input into the PLC will be scaled and displayed on a gauge and numeric display on our HMI screen. We will also write information to our 7 segment display on the CPU from our HMI screen. Omron serial host link protocol will be used to communicate over an RS485 serial cable. We will demonstrate remote access using our windows and android device. Let's get started.