The BRX Do-More PLC can communicate to a remote I/O (input and output) controller modules using the Modbus protocol for communications. The BX-MBIO provides both Modbus RTU and Modbus TCP interfaces. Modbus RTU is a serial communication and Modbus TCP is an Ethernet communication. Modbus RTU is supported over an RS-485 serial connection. Modbus TCP is supported over an Ethernet connection. They function as listening/replying devices (slave, server) and can connect with any mastering (master, client) device that communicates using the Modbus protocol.
Previously we looked at the BX-MBIO Modbus RTU TCP Remote IO Controller wiring and configuration.
Modbus RTU TCP Remote IO Controller BX-MBIO
– BX-MBIO Hardware Video
– BX-MBIO Powering and Configuring Video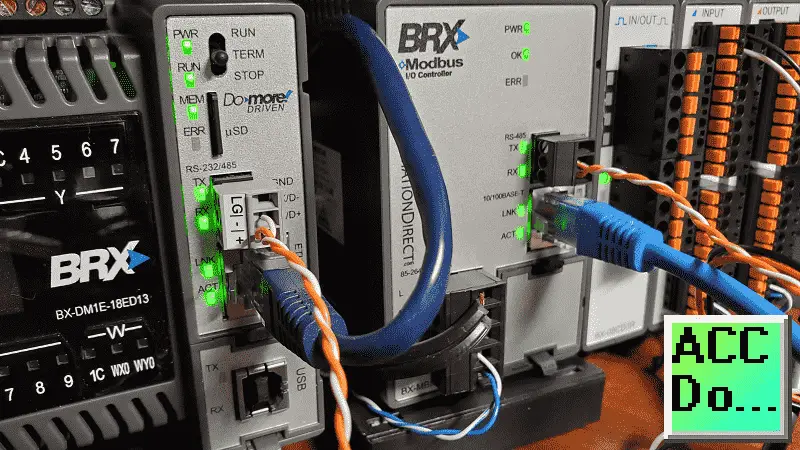 We will connect the BRX Do-More PLC to the Modbus remote IO. This will be done using the Modbus TCP and Modbus RTU protocol. Ethernet and serial RS485 communication to the BX-MBIO unit will be the media.
The BX-MBIO remote I/O expansion units feature the following:
• RJ45 Ethernet port for communications via Modbus TCP
• RS485 serial port for communications via Modbus RTU
• Supports up to 8 additional Expansion Modules (Add the discrete or analog I/O you require)
• AC and DC powered units available
• AC powered units include an integral 24VDC auxiliary output power supply
• Power connector and serial port connector included
Let's get started.