We will now look at the capacitive pushbutton sensor switch and indicator.
Normal pushbuttons on a panel are usually a mechanical device. They can become "sticky" when too much dirt or oil is present. Capacitive push buttons do not have moving parts to stick, so the life expectancy is increased. Disinfectant sprays can be applied directly to a capacitive pushbutton and left to dry so it can be more effective for the safety of your operators.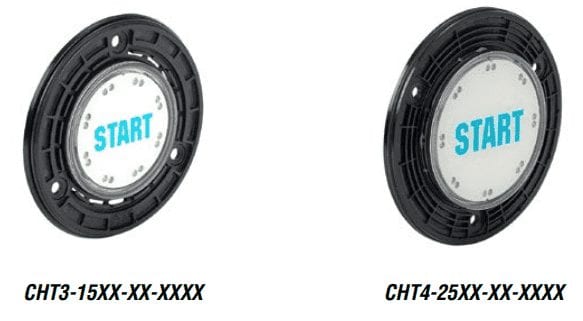 Captron pushbutton sensor switches use capacitive sensing to detect when a hand or body part nears the device surface; built-in or stand-alone indicators provide multi-color signaling options. The robust IP69K design provides wear-free operation, plus resistance to water, oil, and harsh environments. These PNP NO DC-operated devices are available in 22mm, 50mm, and 60mm mounting diameters. Construction materials include plastic and stainless steel, aluminum, or polycarbonate. The corresponding 22mm LED signal indicator lights are also IP69K rated and have a 20mm diameter illuminated area; green, red, yellow, white, orange, and magenta signal colors are available.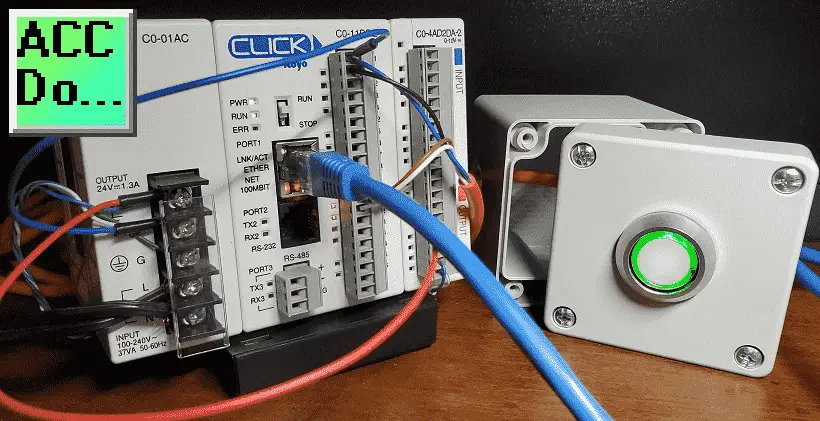 We will be wiring a 22mm captron pushbutton to a click plc. Upon activating the sensor for half a second output on the click plc will turn on. The green LED on the captron will turn solid green. When the sensor is selected again, the output will turn off. The Green LED will then blink indicating that the output is off.
Let's get started!